Yes. I'm back on the blog.
It's been a while, but I've just been too absorbed in facebook and kind of lost the plot.
But Oh! That British Bloke is back on a new platform. It's even on my own server, so let's see if I can learn to handle WordPress.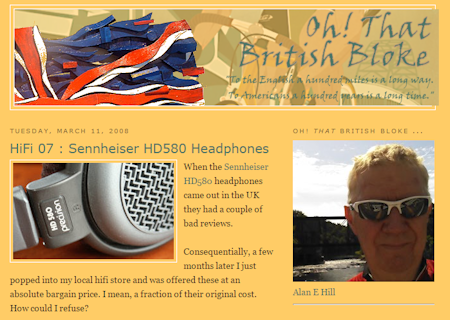 Just in case anyone was wondering the old school blog is still available here, but as you can see, it's been pretty neglected for a while.
So as we head for another new year I'm going to be pontificating about the usual stuff; cycling, listening to music, Living In America, and a couple of new things. Well, not so much new as resurrected, like trains and modelling and stuff.
So far, I've managed to adapt the page theme, so it won't look identical to any other blog out there. I'm not too happy with the graphics and colours yet, but that will change.
BTW: You can listen to what I'm mostly listening to today by clicking the player over in the right hand column. And should you feel the urge try LiquidLounge, a fairly random selection from my music library. Sometimes I listen to it and I'm convinced I have the greatest musical taste on any planet. Other days I wonder if I should start deleting big time. You can see the last 20 tracks played by LiquidLounge here.
Oh well, let's see how it goes.